The Digital Champions Network (DCN) is a unique and comprehensive online platform that provides Digital Champion training and a support community for people who go through that training.
Shared with housing providers, local authorities and other regional and national organisations it is successfully turning hundreds of volunteers into Digital Champions who can provide effective digital skills support.
With courses, resources and forums specifically designed to develop the critical skills needed for a successful Digital Champion, the DCN is a unique and low-cost way to help people to get and stay online.The Digital Champions Network (DCN) is a supported online solution to create, train and support Digital Champions in your community.  Click on the image below to view the info-graphic.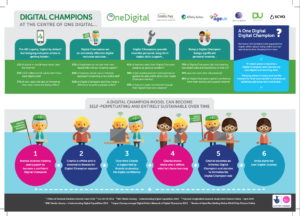 What are Basic Digital Skills?
Basic Digital Skills have been defined by digital skills charity Go ON UK in consultation with a range of expert organisations. Basic Digital Skills empower the individual to use digital technologies to: manage information; communicate; transact; problem solve, and, create.
Why is it important to have Basic Digital Skills?
Today's world is a digital world and those without the skills to participate in it are disadvantaged. Over 12 million people (around 1 in 5 UK adults) don't have basic digital skills (Go ON) and as a result they have less opportunity to realise the individual, social, economic and health related benefits that having digital skills provides.
It has been estimated that the annual social value of every individual getting online for the first time is £1,064 (BT Valuing Digital Inclusion, 2014).  The ability for individuals to use digital also results in them:
Having more confidence.
Making financial savings online.
Feeling less bored.
Having more opportunities to pursue hobbies.
Developing new job-seeking skills.
Reducing their social isolation.
What is a Digital Champion?
Digital Champions are people, such as staff, volunteers, friends and family members, who already interact with those who need better digital skills. Digital Champions are not technical wizards but have passion and confidence with using digital technology and a willingness to help others.
What difference can a Digital Champion make to helping people online?
When there is an existing relationship between a potential Digital Champion and an end beneficiary, there is an opportunity to add digital skills support into it. That digital skills support – whether it is signposting, advice or hands on tuition – is much more impactful because it is relevant and personalised for that engaged individual. Digital Champions can also provide accessible and regular support, giving that long term help that many internet beginners need.
This One Digital infographic shows exactly how Digital Champions can make a difference.
How are the Digital Champions being trained and supported?
At the heart of One Digital, is Digital Unite's Digital Champions Network, an e-learning platform and support network. It provides courses, resources and Mentor support to hone and develop personal skills and the essential teaching techniques. It is also the central area where data about Champion and end learner activities is collated. Digital Champions also receive Mozilla Open Badges, the emerging online approach to professional verification, for every course they complete. Open Badges are shareable and transferable and Digital Champions can use them on CVs and on LinkedIn as a recognition of the skills and aptitudes they have gained via the Network
Getting in touch:
If you would like to know more about the One Digital programme and its partners please contact

Emma Weston, One Digital Programme Director

and

Chief Executive of Digital Unite

at

[email protected]

.
If you are interested in becoming a Digital Champion please email

[email protected]

om or call 0800 228 9272.
For all media enquiries about One Digital please contact Katharine Teed, Communications Manager at Digital Unite

[email protected]

/ 0800 228 9272.