In keeping with Old National Bank's ongoing commitment to community and sustainability, the company has donated 700 computers and laptops along with printers and other electronic equipment in 2014 to Net Literacy, an Indianapolis-based, student-founded digital inclusion nonprofit.
"When Old National Bank IT Asset Manager Dan Nord contacts us to tell us that ONB had additional computers for us, we were all incredibly excited! Their donation of computers will increase access to technology and broadband to thousands of Hoosiers and will also help our own student volunteers," said Dan Kent, Founder of Net Literacy. "All donated computers are refurbished by middle and high school volunteers and during our repurposing initiative; students learn leadership, job, and STEM skills as they serve their communities. The computer and software skills that they learn enable them to become more tech-savvy, entrepreneurial, and employable. And we have Old National Bank to thank for helping to make a difference for so many of our volunteers!"
"This donation is a win for Indiana communities because of Net Literacy's ability to repurpose this equipment for use by schools and nonprofits," said Bob Jones, Old National president & CEO. "It also signals progress for Old National in our efforts to create a more sustainable work environment with less energy and paper usage."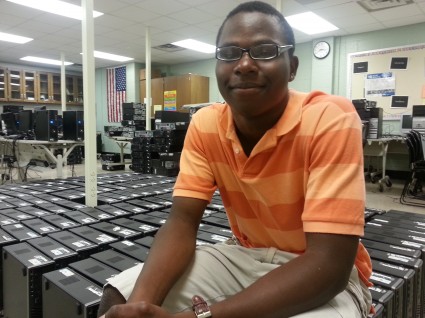 "Our partnership with Old National Bank's began six years ago when ONB supported the launch of our Financial Connects initiative where students produced videos to teach other teens about financial literacy," Kent continued. "And their computer donation to us enables Net Literacy to in turn donate computers where the digital divide is the widest and in support of schools, public libraries, afterschool programs, community centers, and other nonprofits in 73 Hoosier counties. Also, some of these computers will be donated to the families of K-12 students without a computer at home. And with this latest donation of computers and laptops, ONB showed once again that it is a company that continues to give back to the communities that it serves!"
About Old National.  Old National Bancorp (NASDAQ: ONB) is the largest financial services holding company headquartered in Indiana and, with $10.4 billion in assets, ranks among the top 100 banking companies in the U.S. Since its founding in Evansville in 1834, Old National Bank has focused on community banking by building long-term, highly valued partnerships with clients in its primary footprint of Indiana, Southern Illinois, Western Kentucky and Louisville, and Southwestern and Central Michigan. In addition to providing extensive services in retail and commercial banking, wealth management, investments and brokerage, Old National also owns Old National Insurance, one of the 100 largest brokers in the U.S. For more information and financial data, please visit Investor Relations at oldnational.com.
                                                                                           .
 About Net Literacy. Net Literacy is a student-founded all-volunteer digital inclusion and digital literacy nonprofit whose board is 50% comprised of students. Students have repurposed more than 30,000 computers donating them to schools, afterschool programs, and other nonprofits in 73 Indiana counties increasing computer and Internet access to over 250,000 Hoosiers. Three of its programs were included in the National Broadband Plan presented by the FCC to Congress and two American Presidents have honored Net Literacy's accomplishments. For more information, please visit netliteracy.org.