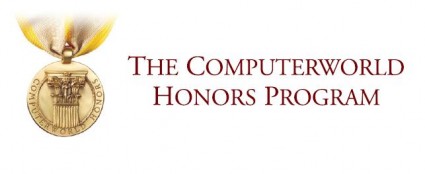 April 21, 2011— IDG's Computerworld Honors Program today announces Net Literacy as a 2011 Laureate out of more than 1,000 nominations. The annual award program honors visionary applications of information technology promoting positive social, economic and educational change. Net Literacy was nominated by Intel.
"The number and quality of nominations this year were very inspiring and demonstrate how valuable IT is to community change," said John Amato, Publisher, Computerworld. "Computerworld is very proud to name the 2011 class of Laureates and showcase their initiatives benefiting society through innovative uses of IT."
"Net Literacy was honored by our partner Intel for nominating the DigitalLiteracy.org "best practices" site for this year's Computerworld Honors Program," said Daniel Kent, Net Literacy's Founder, Student President, and a college senior. "The DigitalLiteracy.org model is to provide the world a sustainable sharing of good practices by vetting them and aggregating them on one website when 'real world' digital inclusion conferences have proven difficult to maintain. The idea crystallized after flying back to the United States after meeting with the Hong Kong Internet Professional Association and discussing common world problems. We are grateful that the meeting was facilitated by Intel's World Ahead leadership."
At the 2010 International Internet Industry Association meeting in South Africa, the DigitalLiteracy.org "best practices" website was endorsed by Internet associations representing 225,000 Internet organizations on five continents.

"A beta version of the site was launched in August, 2010, and a production version of the site will be completed in June, 2011," said Kent. "More than 300 best practices have been submitted and are pending posting. We are also working with the NTIA and discussing the National Broadband Plan's best practice website – that will be located at www.digitalliteracy.gov – for America that will be launched later in the Fall"

Net Literacy's Digital Inclusion and Digital Literacy best practices website was nominated by Intel – and was selected by Computerworld from over 1,000 nominations. The Computerworld Honors awards will be presented at the Annual Laureates Medal Ceremony & Gala Awards on June 20, 2011 at the Andrew W. Mellon Auditorium in Washington, D.C.
About Computerworld Honors Program
Founded by International Data Group (IDG) in 1988, The Computerworld Honors Program is governed by the not-for-profit Computerworld Information Technology Awards Foundation. Computerworld Honors is the longest running global program to honor individuals and organizations that use information technology to promote positive social, economic and educational change. Additional information about the program and a Global Archive of past Laureate case studies and oral histories of Leadership Award recipients can be found at the Computerworld Honors website (http://events.computerworld.com/Honors2011).
About Computerworld
Computerworld is the leading source of technology news and information for IT influencers worldwide, providing peer perspective, IT leadership and business results. Computerworld's award-winning Web site (http://www.computerworld.com), bi-weekly publication, focused conference series and custom research forms the hub of the world's largest (40+ edition) global IT media network. In the past five years alone, Computerworld has won more than 100 awards, including Magazine of the Year by American Society of Business Publication Editors (ASBPE) awards in 2010, the 2009 Best Blog from the Neal awards, and 2006 Best Overall Web Publication from ASBPE. Computerworld leads the industry with an online audience of over 3.5 million unique, monthly visitors (comScore Media Metrix, August 2010). Computerworld is published by IDG Enterprise, a subsidiary of International Data Group (IDG), the world's leading media, events, and research company. Company information is available at www.idgenterprise.com.
Note: All product and company names are trademarks of their respective companies.