Slide 1
As Internet use among children and teenagers increases, Internet safety is becoming an increasingly important issue. This presentation is designed with both grandparents and their grandchildren in mind and will concisely explain how to stay safe online. That's you and me!

Slide 2
We will be talking about netiquette, instant messaging and chat rooms, cyber bullying, net predators, and social networking websites.

Slide 3
Our first topic is Netiquette.

Slide 4
What does this mean? Netiquette is a term for Internet etiquette. Etiquette is like having good manners and being nice and responsible. It is important to remember that the people that you talk to online are real people with real feelings. In face to face communication, the person that you are talking to can see your facial expressions and emotions, but when you talk to someone over the Internet, they do not have this luxury. Because of this, it is important to be extra careful not to say something online that could be taken as mean or offensive. The best way to practice good Netiquette is to basically act online as you would in person.

Let's talk about the four rules of Netiquette.

Slide 5
The first rule of Netiquitte is to treat others the way you would want to be treated. Remember that when you write something online, you are talking to a real person who has feelings like you do. Sometimes, it's hard to remember because you don't always see a person's face when you communicate online, you may just see text being typed.

Slide 6
The second rule of Netiquette is "Do not troll." Trolling is posting false or offensive material in order to incite angry responses from others. That's mean and can get people that do that in trouble.

Slide 7
The third rule of netiquette is "do not flame." Flaming is deliberately insulting a specific person or group of people. Just like you would not attack strangers in real life, you should not attack strangers online.

Slide 8
The fourth rule of Netiquette is to respect other people's privacy. It is against the law to write false information about a person that is mean or damaging to their reputation. Posting private information online can have unforeseen consequences and can impact both the person that you are posting about and yourself. Also, many jobs and scholarship committees use the Internet to search and learn more about a candidate and if they find that a candidate has posted a lot of nasty things online, they will be less likely to hire that person or grant that person a scholarship.

Slide 9
Next we will talk about instant messaging and chat rooms.

Slide 10
A chat room is a place where people can meet and communicate together online. A chat room allows you to communicate with someone without having the advantage of their appearance, body language, or tone of voice.

A chat room can be either private or public. A good rule to follow is to never accept an invitation to join a private chat room unless you know and like the person that is inviting you. Sometimes, people can be mean or try to trick you.

Slide 11
Instant messanging is a way of instantly sending messages back and forth, generally with only one other person. Popular IM clients include AOL Instant Messanger or "AIM," Google Talk, MSN Messanger, Yahoo Instant Messanger, and Facebook Chat.

Slide 12
When you are chatting online, there a number of guidelines that you can follow to stay safe.

First, ensure that your profile includes no personal information such as your address or telephone number.

Second, simply think when you are chatting online. Will what you're saying possibly put you or your friends in any kind of danger?

Third, be careful about who you talk to online. If you are talking to a stranger, remember that they might not be who they claim to be. Most people admit to lying sometimes when they are online.

Fourth, never meet a person face-to-face who you met over the internet. Once again, the people that you talk to online may not be who they claim to be, even if they have posted pictures that they claim are of themselves. Many times, someone that you don't know that asks you to meet them face-to-face means to harm you.

Fifth, stay in charge when chatting online. Remember that you can turn off your computer or leave a chat room at any time.

Sixth, avoid giving out your real name in chat rooms and instead use a nickname.

Finally, if you ever run into trouble online, please talk to a parent, a grandparent, or another trusted adult about what has happened.

Slide 13
Next we will talk about an unfortunate problem with online communication, cyber bullying.

Slide 14
"Cyber Bullying involves the use of information and communication technologies such as e-mail, cell phone and pager text messages, instant messaging, defamatory Web sites and defamatory online personal polling Web sites, to support deliberate, repeated, and hostile behavior by an individual or group, that is intended to harm others."

Do you know what this means? Let's discuss it.

First, basically cyber bullying is being a bully on the internet.

Slide 15
Cyber bullying is the fastest growing type of bullying. If you are sent an abusive or mean email, chat, or text message, why bother writing back? The sender wants you to reply to be able to harass you further, so don't give them that satisfaction.

Slide 16
Most importantly!

If anyone every makes you feel uncomfortable online, talk to a parent, grandparent, or a trusted adult – they can provide suggestions and advice.

Also, remember that sometimes people say things that they are sorry for, or can be mean because they're angry about something else. It's not your fault if someone cyber-bullies you, and we will help and support you.

Slide 17
Another serious danger online is the threat of net predators.

Slide 18
Net predators are adults who use the Internet to harm teens. They pretend they are teens, befriend you, and then try to set up a "face-to-face" meeting with the intent of hurting you.

Slide 19
If anyone online is bothering you or making you feel unsafe, stop talking to them and tell a trusted adult. In order to avoid net predators, use common sense, avoid posting personal and identifiable information online, be wary of what people say online, and never agree to meet anyone "face-to-face" that you met online.

Slide 20
In order to avoid Net Predators, you should not post inappropriate pictures online or send text messages with inappropriate pictures. Also, avoid posting all of your personal information online. In addition to this, do not use a webcam to chat with people you don't know.

Slide 21
Most importantly!

If anyone every makes you feel uncomfortable online, talk to a parent, grandparent, or a trusted adult – they can provide suggestions and advice.

One easy rule to follow is never, ever agree to meet someone face-to-face if you have met them online and they are not family, from your school, or a friend from the neighborhood.

There are good and bad people online just like there are in school and the neighborhood. So be safe online, have fun online, and remember that you can always talk to us about anything. If someone approaches you or asks you questions that make you feel uncomfortable, it's not your fault. Please let us know.

Slide 22
Next we will talk about social networking sites.

Slide 23
A social networking site is a website where you set up a profile with information about yourself and communicate with other people using the site.

Slide 24
The two main social networking sites are MySpace and Facebook.

Slide 25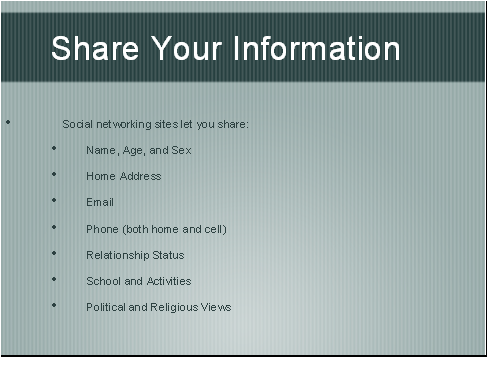 Social networking sites let you share information such as your name, age, sex, home address, email address, phone number, relationship status, school, activities, political views, and religious views. Just because a social networking site gives you the option to share a piece of information, however, doesn't mean that you should. Sometimes, a site will ask you questions that you just shouldn't answer – just like you wouldn't tell strangers information about yourself.

Also, even if you say something as a joke, people that read it may think you're telling the truth – so when in doubt, don't answer any question that you're not comfortable answering. If you have questions, you can always come talk with me about them.

Slide 26
It is also important to remember how easy it is to create a fake profile on a social networking site. This is a Facebook profile a student created in under ten minutes, but anyone viewing it would have no reason to believe that the young man that created it was not actually Mary Smith. So what you see online is not always true. Sometimes, teens are kidding around. Other times, there are bad people that may mean to trick you or harm you. Also, this site was created by a boy, not even a girl.

Being online is just like crossing the street – it's safe if you look both ways before you cross the street so you're not hit by a car. Online, there are also rules of the road.

Slide 27
It is important to remember that schools and employers have the ability to see profiles on social networking sites such as Myspace and Facebook. Because of this, you should be careful about what you post on these sites. Remember never to put something on the internet that you wouldn't show your parents or an administrator. Even if you have privacy settings on your profile, there is always a chance that your information will be seen by someone you don't want to see it.

Slide 28
Remember that there are no secrets about what you post online and that what you write can remain online forever.

Remember that if anything or anyone makes you feel uncomfortable, talk to a parent, grandparent, or a trusted adult!

Have fun and be safe online!

Slide 29
I'm glad that we talked about this. Always feel free to ask me any questions and I'll do my best to help you find answers.