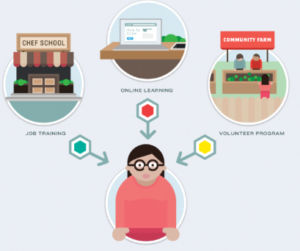 Jane Hart, whom I follow, had some intriguing quotes from her favorite April blogs in her blog this week. One of them was by Ralph Thomas from the  EreMedia blog entitled When It Comes To Career, It's Up To Every Employee To Stay Relevant. I clicked on the link and read the blog. In it Thomas chronicled the rise and demise of various companies, and their workers, who did not keep pace with changing moires and trends in their industries. Here is an excerpt:
The workplace of today is changing, and workers' skill sets must keep pace with employers' expectations. However, who determines that expectation if your livelihood is dependent on some employer to make the right strategic moves? They lose, and ultimately, you lose.

For this reason, every one of us must have a career strategy, and that strategy should be guided by your industry's trajectory. You should be fine-tuned to the intricacies of your profession.

You have no choice. You have to self-develop to stay relevant. Always remember that YOUare in charge of your career  Never get sucked into the "company knows best" approach to your career.
Doris and I have been "preaching" the DIY lifelong learning philosophy in this blog since we began in 2013. Keeping up with your career industry, changing to a new career, or seeking volunteer opportunities all require updating existing skills, acquiring new skills, and exploring what skills are needed to succeed.
Last week's blog, New World of Work, PKM, and Learning Ledger of the Future, introduced the digital Learning Ledger as a wave of the future that will capture and document all of  your learning in one place, open to employers, your learning networks, work teams, and others that might be interested. Although the digital Learning Ledger is still on the horizon, we can start collecting our learning experiences now to show what we know and are able to do.
Many digital learning opportunities (such as MOOCs from major universities, online courses, private learning companies such as
Lynda.com, Kahnacademy.org, or Treehouse for learning how to code) offer certificates of completion and digital badges for specific tasks along the way. You may have seen these displayed on websites, LinkedIn profiles, blogs, or digital portfolios. They are becoming more prevalent.
What are Digital Certificates and Badges?
Brad Zomick identifies 5 classes of online credentials in Prove Your Skills: Test-Based Online Credentials from SkilledUp.com by Brad Zomick from 2013:
College degrees: Online, blended, or on site BA, BS, MA, MS, PhD from an accredited college or university. These degrees still have the greatest value.
Test-based credentials: earned by taking multiple project-based or multiple-choice tests in various skill areas.
Online badges: individuals can demonstrate job skills, educational accomplishments, online course completion, specific tasks along the way, or just about anything else that a badge creator decides.  A 'badge' can mean almost anything.
Completion certificates: Documentation of completing all the segments of a course. Like badges, completion certificates can mean anything from passing tests to viewing all the video components without documentation of learning.
Online certificates: Earning an online certificate from an online college, a company or an industry-specific organization is typically much more  involved than the other credentials, and are often connected to specific job functions.
Zomick states: Among alternative credentials, online certificates currently command the highest value and are nearly comparable to a traditional degree.
He believes that alternative credentials are going to gain more prominence as time goes on. He says:
The future of education is free — free content, courses and textbooks. However, without a way for students to validate their knowledge and prove their skills, this is only one step (albeit a significant one) towards reforming higher education. Many are now beginning to attack the problem of accreditation — helping develop the next generation of certificates, badges and credentials that will allow self-learners to prove their knowledge in order to get employment and advance in their careers. The race is on to (slowly) replace the college degree as the primary way for companies to evaluate and validate talent.
Mozilla, the open source company that powers the internet browser Firefox among other initiatives, created a badge backpack in 2012 in concert with the MacArthur Foundation to house digital badges you acquire. Since they are an open source company (no proprietary copyright or use fee – their code and products are free), they believe in open source badges. Their wiki describes open source badges this way:
A digital badge is an online representation of a skill you've earned. Open Badges take that concept one step further, and allows you to verify your skills, interests and achievements through credible organizations and attaches that information to the badge image file, hard-coding the metadata for future access and review. Because the system is based on an open standard, earners can combine multiple badges from different issuers to tell the complete story of their achievements — both online and off. Badges can be displayed wherever earners want them on the web, and share them for employment, education or lifelong learning.
Their backpack houses your badges in one place ( a beginning ledger). Here is the infographic of their open badge and backpack concept:
These badges have set criteria associated with them, so each badge has requirements for being awarded. The requirements or skills associated with the badge are visible. In other words, each badge gives you the information of what was achieved and accomplished to be awarded. Unlike the casual badges that can mean anything, these badges have gained some traction and are now awarded in conjunction with IMS Global Learning Consortium that uses them for credentialing, learning management systems such as Canvas, and the MOOC company edX. The badges are now under the auspices of edX (a MOOC conglomerate of Harvard, MIT, and Stanford among others) and Concentric Sky, and the open badging system is now called Badgr.
Does Displaying Digital Certificates and Badges Matter?
In a follow up article on Skilledup.com, What's It Worth? Certificates, Badges and Online Portfolios, Brad Zomick has this to say about the impact and usefulness of displaying digital certificates and badges:
A certificate of completion doesn't mean very much. It's a bit like when you got a trophy in 3rd grade soccer simply for showing up. Many online course providers dole them out to students who have simply sat through the entire video, including learning libraries like lynda.com. There is also a "badge of completion", which is nearly identical except that a badge is a bit more digital.

…there is anecdotal evidence to support that a certificate alone is not enough to land you a job.

The perceived value of certificates of completion and badges will vary in value from employer to employer. Employers who have actually taken online courses and even learned their trade via an online learning platforms will have a better appreciation for the time you spent and the badges you earned. The majority of traditional employers, however, will not be intimately familiar … and will look upon these badges and certificates with skepticism.
Badges awarded by Badgr have more validity as they are associated with edX's prestigious universities and have criteria associated with them. Displaying certificates and badges on your LinkedIn profile or other professional profile next to the corresponding job or project description adds validity to all badges and certificates. It does not hurt to display them, but putting them in context with your work elevates their importance.
Zomick suggests using an ePortfolio of your work with badges and certificates embedded in the appropriate places next to your work. Actual examples of what you have done with the skills you have acquired to do the work have the most validity to employers. Sounds like a Learning Ledger, doesn't it?
Have you acquired digital credentials? Do you display them on your professional sites? What has your experience been with displaying them?
Resources used for this blog:
Wikipedia: Open Badges: https://en.wikipedia.org/wiki/Mozilla_Open_Badges
Skilled Up: Prove Your Skills: Test-based Online Credentials
Skilled Up: What's It Worth? Certificates, Badges, and Online Portfolios
Mozilla Wiki: Open Source Badges
EreMedia: When It Comes To Career, It's Up To Every Employee To Stay Relevant
Featured image of badges and certificates from the talented artists at Pixabay
Mozilla Backpack infographic from the Mozilla wiki
To learn more about the author, click on the link: Lisa