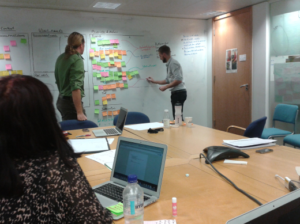 Or visit this link directly: https://gds.blog.gov.uk/2014/01/13/a-checklist-for-digital-inclusion-if-we-do-these-things-were-doing-digital-inclusion/
As with most of our work at the Government Digital Service, we release things early for review and comment. The digital inclusion team, set up last year,would like to share and get your feedback on an alpha version of a checklist for digital inclusion.
We first mentioned a set of principles (we're now calling it a checklist) when we published action 15 of the Government Digital Strategy. Over the last three months, this checklist has been developed in collaboration with partners from across government, private, voluntary and public sectors.
The intention is for the checklist to act as a guide for any organisation involved in helping people go online. In other words, if you do these things, you're doing digital inclusion. Alongside each of the six checklist items, we have included an illustrative example of what works and a potential action that could be included in the upcoming digital inclusion strategy.
Checklist Overview
1.  Start with user needs – not our own
2.  Improve access – stop making things difficult
3.  Motivate people – find something they care about
4.  Keep it safe – build trust
5.  Work with others – don't do it alone
6.  Focus on wider outcomes – measure performance
We want to hear from you
We are looking for feedback on the checklist from organisations and individuals who are involved in helping people, small businesses and small charities go online. We are keen to hear other examples from you  that illustrate great digital inclusion in action. We also want to know what actions we should be taking. Like those we have identified from the examples here, please let us know what you would do.