Hamilton County's First "Intergenerational Computer Literacy Day for Youths to Help Adults"
February 21st was a day when the cities and towns within Hamilton County united to spotlight an silent underclass of Hamilton country citizens that are being left behind in 2005 – the tens of thousands of senior citizens in Hamilton County that are Internet illiterate. The cities and towns of Carmel, Noblesville, Westfield, and Fishers – along with a strong endorsement from the Hamilton County Commissioners – proclaimed February 21st as an "Intergenerational Computer Literacy Day for Youths to Help Adults."
PrimeLife Enrichment, the county's preeminent community outreach organization that provides a variety of important services, including computer literacy training, to adults who are aged 50 and over partnered with Senior Connects, a youth-run 501(c)(3) computer and Internet advocacy corporation of middle and high school students to cause this day to happen.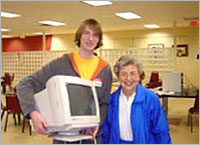 On February 21st, PrimeLife Enrichment and Senior Connects volunteers and staff met with residents throughout Hamilton County, answering their questions, upgrading their computers, giving away free monitors, giving away free utility CDs (to combat spyware, pop-ups, and other programs to enable the attendees to safely enjoy their Internet experience.
PrimeLife Enrichment's Executive Director and Community Outreach Director, Sandy Stewart and Lois Lewis worked with Daniel Kent of Senior Connects to organize the event. "This is a historic day for Hamilton County adults because senior need to be empowered to take advantage of the news, health information, and communication opportunities that the Internet offers. We provided our computer lab for this event because we believe senior citizen computer and Internet literacy to be one of the most critical issues of the day." PrimeLife Enrichment has a six station state-of-the art computer lab and offers computer courses for its members.
Senior Connects is a team effort, and the eight student-volunteers that participated in today's event by distribution posters, creating the utility CDs, answering questions, upgrading attendees' computers, and providing free monitors symbolizes our organization – an intergenerational organization of student volunteers that encourages, enriches, and empowers seniors by promoting computer and Internet literacy to senior citizens." Senior Connect volunteers In attendance also included Stafford Brunk, Alex Maltese, Chris Gecewicz, Scott Brookie, Brian Kelly, Stephanie Miller, and Zach Carr.
"We appreciate the Hamilton County Commissioners, Noblesville's Fishers' Carmel's and Westfield's endorsement of this important day and their support," Sandy Stewart continued.
When an established community outreach organizations such as PrimeLife Enrichment partners together with the extraordinary group of student-volunteers at like those at Senor Connects, the entire county benefits. Kent echoes that sentiment. "Senior Connects has provided or enhanced computer access to almost 11,000 seniors during the last year, including providing computers at every independent and assisted living facility in Hamilton County. Teams of volunteers that include Stafford Brunk, Matt May, and Kyle Egbert are currently teaching seniors in four Hamilton County facilities alone. The team is what makes this a successful program," Kent continued.
How you can help and make a difference: Senior Connects is seeking computers that use Windows 98 or more recent operating system to refurbish to help increase computer access to senior citizens and other underserved Hoosiers. Please bring your donated computers to PrimeLife Enrichment, which serves as Senior Connects' computer drop point.